Apple Mail to Outlook 2019 converter is exactly what it sounds like: it converts the data from Apple Mail to Outlook 2019 using the files both clients use. You need to convert those files in order to migrate the data. Because the files used in Apple Mail don't work in Outlook 2019 (or older versions).
Apple Mail to Outlook 2019 Converter
But the conventional converters use the files from Apple Mail like EMLX or MBOX. With those types of converters, you have to manually find EMLX or export data to MBOX first, then use them with the converter for creating new Outlook PST files.
This is a fairly decent approach but does offer a few complications. Firstly, there's the amount of efforts required to get the files as the first step. Secondly, even if you managed to do everything, the result is slightly incomplete and partial. You would notice the details in your data (like headers, structure, metadata, etc.) missing from the converted Outlook 2019 PST files.
USL Software, the company behind many successful email migration tools, asked if there's a better way to migrate data.
Best Apple Mail to Outlook 2019 Converter
"Mail Extractor Pro" came out as a result of that and as an answer to the question if we there is a method better than what generic Apple Mail to Outlook 2019 converters offer.
"Mail Extractor Pro" has got a few different ways of doing things, the first and foremost is the auto-load option. Under which, it doesn't ask you to select any files for conversion. Instead, the tool can scan and detect the profile/identity folder where Apple mail stores everything.
By doing this, the tool can sidestep the perils of the conventional MBOX to PST conversion or EMLX to PST conversion, which is what all Apple Mail to Outlook 2019 converters do.
This not only makes the process much quicker or more accurate, but rather vastly enhances the output to a substantial degree. You will never see any gaps or incongruencies in your converted PST files. All things starting from small header information to large email attachments get converted with the highest level of precision.
And what's even better?
"Mail Extractor Pro" has all the qualities of an advanced, professional tool for corporate needs, but it carries a simple UI that also makes it fitting in less complex scenarios, like for personal use for migrating data in home computers.
No matter what situation you are in, how large your database is, or how complex, "Mail Extractor Pro" will offer you the best way to move Apple Mail to Outlook 2019.
Get this Apple Mail to Outlook 2019 Converter
Get a trial mode first to see it in action with your own database. It is not limited by time or has any features blocked or disabled. Only thing about the trial version is that it limits conversion to ten items from each folder, which is enough for you to freely test it out.
Get your try copy at https://www.uslsoftware.com/apple-mail-to-outlook-converter-for-mac/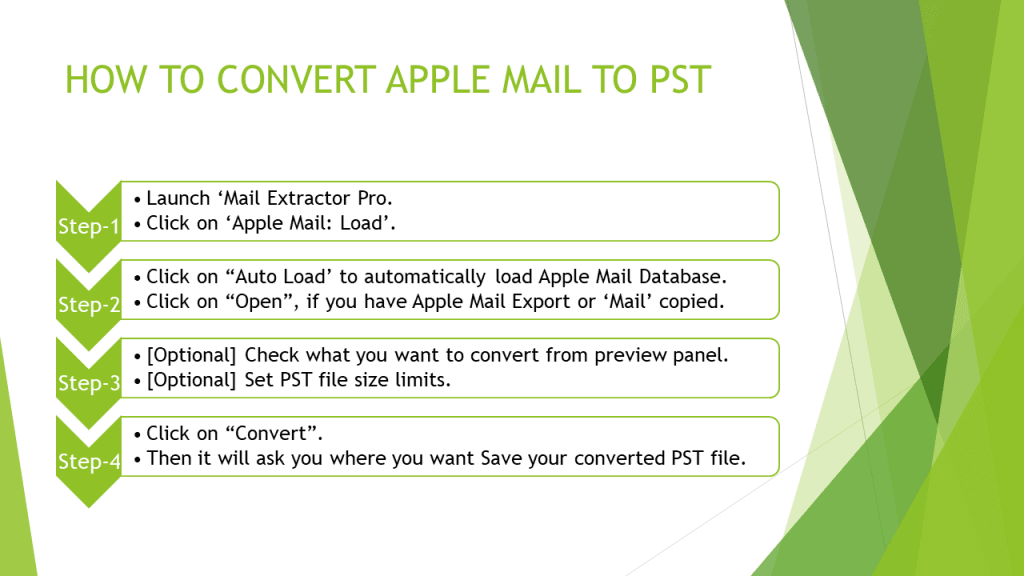 If you are looking for Apple Mail to Outlook 2019 converter, then try 'Mail Extractor Pro' today.